Acupuncture with Joseph Bonacci, L.Ac., CFMP
What is Acupuncture?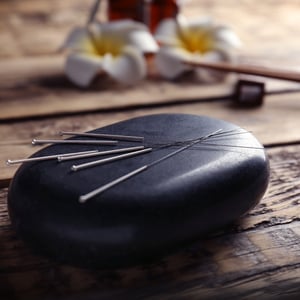 Acupuncture is a 2,500 year old healing modality that incorporates the insertion of fine needles into specific points on the body. These points are chosen based upon the principles of Chinese Medicine which aim to promote the free flow of vital energy ("Qi") through a system of meridians. It should be noted that all needles used in this practice are approved, sterile, and disposed of immediately after treatment. PIH also offers Trigger Point Therapy, a contemporary biomedical form of dry needling that specifically targets muscular tension and effectively relieves acute and chronic pain disorders.
Licensed Acupuncturist, Joseph Bonacci, MS, LAc, specialized in the following Acupuncture treatments:
Traditional Acupuncture
Sports Medicine & Trigger Point Dry Needling

Tui Na
About Joseph Bonacci
Joseph has been a Licensed Acupuncturist in the State of NJ since 2010 and is also a Certified Functional Medicine Practitioner through Functional Medicine University. He specializes in sports medicine, pain management, as well as men's health.
Joseph began his academic career locally at Hopewell Valley Central High School and was recruited as a full-scholarship athlete to
Carnegie Mellon University where he graduated with a Bachelor of Arts in English.
Joseph then journeyed to the Australian College of Natural Medicine in Melbourne to study Reflexology for one year before returning to complete a five-year graduate degree program at the Tri-State College of Acupuncture in Manhattan where he earned a Master of Science in Acupuncture and Oriental Medicine.
Prior to joining PIH, Joseph began his practice within the offices of Princeton Sports and Family Medicine headed by Dr. Peter Wenger and Dr. Richard Levandowski, both experienced Orthopedic Physicians who work with US Olympic and Collegiate athletes.
After four years, Joseph then expanded to his own private clinic in downtown Princeton where he continued to specialize in sports medicine and trigger point dry needling for athletes while also treating a variety of other conditions for local Ivy League students.
In addition to his courses of study, Joseph also has taken extensive interest in Bagua and Qi Gong, both forms of Chinese Internal Martial Arts and meditation.
Beyond his professional and academic pursuits, Joseph has also volunteered his time and skill to the Global Alternative Healthcare Project (GAHP) and DESEA Peru, organizations that provide free healthcare to indigenous communities within the US and abroad who otherwise have no access to health services.